Studies show cigarette use among middle and high school students in America decreased between 2011 and 2018. That's wonderful news! However, the number of middle and high school students who use electronic cigarettes, or e-cigarettes, has increased during that same time and continues to increase.
The Centers for Disease Control and Prevention reports the number of middle and high school students using e-cigarettes rose from 2.1 million in 2017 to 3.6 million in 2018, a difference of about 1.5 million middle schoolers and teens.
Vaping's popularity has exploded in recent years. Vapes or e-cigarettes are devices that heat a liquid into an aerosol that the user inhales. The aerosol can contain nicotine, cancer-causing chemicals, heavy metals (such as nickel and lead), and flavoring (such as diacetyl, a chemical that can cause a serious lung disease). The many choices of fruity flavors and fun names make vaping extremely appealing to a much younger audience.

No matter how it's delivered, nicotine is addictive and harmful for youth and teens. So, what exactly are the risks?
·         Brain development: Youth and young adults are at risk for long-term and long-lasting effects of exposing their developing brains to nicotine. These risks include nicotine addiction, mood disorders, and  inability to control impulses. Nicotine also changes synapses, which are where nerve signals are passed from one neuron to another. This can harm the parts of the brain that controls attention and learning.
·         Addiction: The brain continues to grow until mid-twenties. Since addiction is a form of learning, youth and teens can get addicted more easily than adults. The nicotine in e-cigarettes and other tobacco products can make it more likely that a teen or young adult can become addicted to other drugs.
·         Behavior Risks: Teens and young adults who use e-cigarettes are more likely to use other tobacco products, such as regular cigarettes, cigars, hookah, and smokeless tobacco.
What is JUUL?
JUUL is a brand of e-cigarette that is shaped like a USB flash drive. It is a battery powered device that heats a liquid to produce an aerosol that is inhaled. All JUUL e-cigarettes have a high level of nicotine in them. The manufacturer states a single JUUL pod contains as much nicotine as a pack of 20 regular cigarettes. JUUL is one of the top distributors of e-cigarettes among American youth and teens.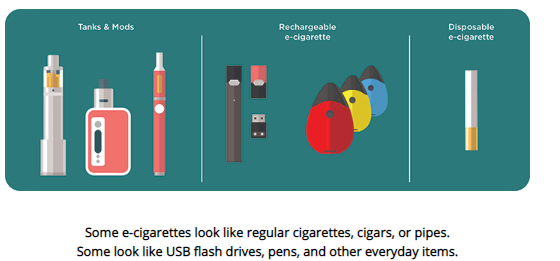 Start a conversation
Talking with your middle or high school aged kids about vaping or e-cigarettes can be a tough conversation to have. Lucky for you, an experienced team of health professionals have thought about every question they could ask and what you need to know to get the conversation started. Check out this Tip Sheet for Parents.
The Surgeon General's warning
In December, 2018 the U.S. Surgeon General declared e-cigarette use among youth an epidemic in the United States. You can read the full report here.
Information for parents and caregivers who use e-cigarettes
The secondhand smoke/vapor from e-cigarettes is harmful to children's growing lungs. The best way to protect your children is to never smoke or vape near them. The e-cigarette solution can also poison children if it's swallowed or gets on children's skin. To get help with quitting smoking, talk to your doctor, call 1-800-QuitNow or Text QUIT to 47848.
Additional resources for teens and families